OUR GUARANTEE
Rosser's Ridge Maple & More stands behind the quality of our products, 100%. While we do our best to produce the finest products, if you are not completely satisfied, we will issue you a replacement or a refund for the defective product. Please contact us with your concern and I promise we'll make it right.
PAYMENT TYPES & METHODS
Prices on Rossersridge.com are U.S. dollars. Rosser's Ridge Maple & More accepts the following payment types:
     • Credit cards: American Express®, Discover®/Novus®, Mastercard®, Visa®
     • Authentic Rosser's Ridge Maple & More gift certificates in the amount of remaining balance.
     • PayPal
     • Cashier's check or money order, only for prepay orders. Please contact us for arrangements.
The following payment types are not accepted by Rosser's Ridge Maple & More:
     • Currency or coin from foreign countries.
     • Multiple payment methods on one sale.
     • Personal check by phone.
     • Mobile Payments such as Apple Pay, Google Pay, Samsung Pay, or any contactless digital wallet.
To place an order and prepay with a check
     1. To place an order and prepay, place all items that you intend to purchase in your shopping cart.
     2. Print your shopping cart page and mail a copy with your check to:
       Rosser's Ridge Maple & More
       10549 Warner Gulf Road
       Chaffee, NY 14030
     3. Make check payable to Rosser's Ridge Maple & More
     4. It may take up to 10 business day for payment to process. Your order will be generated at that time.
Remember to include your billing and shipping addresses as well as a telephone number where you can be reached.
SHIPPING/HANDLING RATES
Rosser's Ridge Maple & More ships products based on weight in pounds and dimensions in inches. Rates are provided by USPS. The best way to see actual shipping charges, is to go through the checkout process. Shipping costs are nonrefundable. Unfortunately, we are unable to refund shipping and handling costs. 
AVAILABILITY
Normal ship time from Rosser's Ridge Maple & More is 2 – 3 business days. This means that after you place your order, it will take 2 – 3 business days to process your order then prepare and pack your selections.
USPS / HOLIDAY SHIPPING
• Ground – All USPS orders ship on regular business days ( Mon – Fri ). Rosser's Ridge Maple & More is not responsible for shipment after USPS receives possession of shipment.
• Holidays – No orders will be shipped on Holidays. Special arrangements need to be made for Holiday delivery. Special shipping fees will apply. 
APO/FPO/DPO
We ship to APO/FPO/DPO addresses via U.S. Postal Service (USPS) Priority Mail. You can place your order online.
APO/FPO/DPO addresses can be complex and may look unfamiliar. All the information must be on the right lines and include all necessary details (box/unit numbers, etc) in order to be valid. The USPS provides a guide for how these addresses should look to be accepted in their system, which you can find on their website.
US military addresses must have "United States" as the country, and either APO, FPO, or DPO as the city. The state must be either AP, AE, or AA
Americas -AA (Armed Forces Americas) 
Europe or Africa – AE (Armed Forces Europe) 
Pacific Regions -AP (Armed Forces Pacific) 
Yes, these addresses may be physically located in other countries, but that's just the format of US military and diplomatic addresses.
Phone numbers are required for international shipments and shipments to military addresses, please be sure to enter a phone number for the recipient.
     – Be sure to type APO or FPO or DPO under the City field.
     – Under the Country field, select USA.
     – Packages cannot be addressed to a business.
     – Packages must be addressed to the service member's full name (with/without rank or rating).
     – Packages may not exceed 70 lbs. Select ZIP codes have lower weight limits..
     – All packages must be sent via the U.S. Postal System. The post office requires companies to hand deliver packages being sent to APO/FPO/DPO addresses.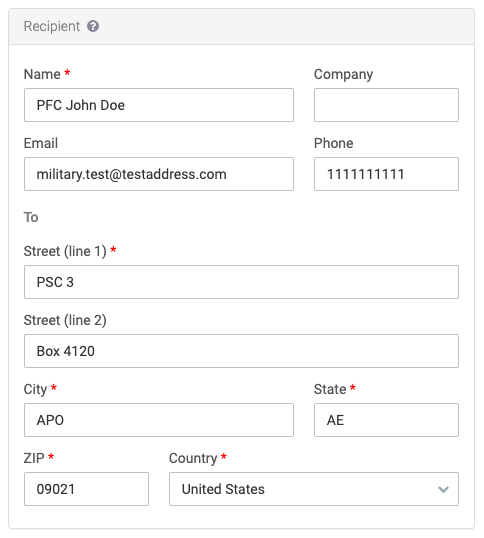 Rosser's Ridge Maple & More has no control over USPS. Please note that an additional 5 to 7 business days are required for processing orders shipping via USPS and that the delivery time by USPS will vary and may take a long time.
If there is damage to the shipment, please first immediately contact us. Rosser's Ridge Maple & More will track your order and notify the postal system & resolve the problem.
LOCAL DELIVERY
For our local clientele and qualifying orders, we are happy to offer the Rosser's Ridge Delivery Service. There is a flat $10.00 delivery charge with in 20 miles. Please contact us for delivery fees exceeding 20 miles. Local delivery is free for orders over $300.00 up to 75 miles.
GIFT BOXES / BASKETS
If you have a special gift box/basket in mind, we would be more than happy to work with you to assemble your perfect gift for any occasion! Contact Us.
LARGE QUANTITIES
All of our products may be purchased in large quantities. We do ask that you notify us in advance so that we may prepare your order. Depending on the size, freight shipping may be an option. Please contact Us.
TAXES
New York sales tax are placed only on qualifying items being shipped to a New York address.